Regulation in EU law on data protection and privacy aims to give citizens and residents control over personal data; comprehensive WHOIS database and lookup tool adds billions of historic records.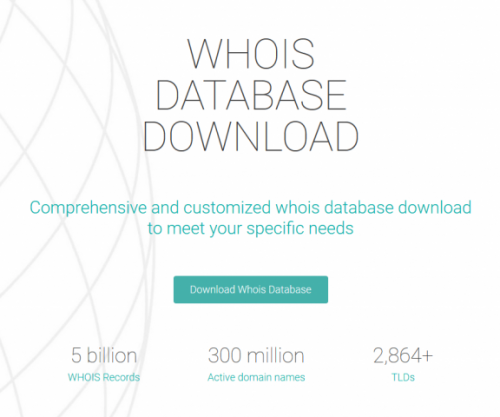 Walnut, United States - July 12, 2018 /PressCable/ —
IQWHOIS, a comprehensive WHOIS database download and lookup tool with a database that offers over 300 million current individual domain name records which are updated regularly and billions of historic domain name records, has launched a mechanism for EU residents in which they can send a request to have their WHOIS information removed from IQWHOIS' website in response to GDPR. Additionally, IQWHOIS representatives have announced that the database has added billions of historic WHOIS records to enrich the domain WHOIS search service in a number of ways.
The General Data Protection Regulation (GDPR) is a regulation in EU law on data protection and privacy for all individuals within the European Union (EU) and the European Economic Area (EEA), and also addresses the export of personal data outside the EU and EEA areas. Primarily, the GDPR aims to give control to citizens and residents over their personal data and to simplify the regulatory environment for international business by unifying the regulation within the EU.
"With Europe's GDPR having come into effect this past May, the future of WHOIS is looking a little clearer," states IQWHOIS' Jonathan Zhang. "In terms of how this impacts WHOIS, the GDPR affects how registries and registrars list the personal information of domain name registrants in publicly-accessible WHOIS directories like ours. While registries and registrars will still be required to collect the same amount of information as they were previously, only very limited information will be made available via WHOIS, and IQWHOIS is complying with that through our tool that allows EU residents to remove their information from our database."
In the other IQWHOIS news announcement, the comprehensive and customized database has been given a boost by way of billions of historic WHOIS records that IQWHOIS reps say enrich their offered services. As it stands, IQWHOIS boasts some five billion WHOIS records, 300 million active domain names and more than 2,864 TLDs, with the WHOIS database download offered by IQWHOIS containing relevant information regarding given domains – information that can be tailored to a specific business' needs and easily integrated with its own services.
IQWHOIS' database download feature provides organization names, registrant names, emails, registration addresses, registrar information, creation/expiry dates, last update dates, domain ages/availability and more.
Additional information can be obtained by visiting https://iqwhois.com/ or emailing support@IQWHOIS.com.
Contact Info:
Name: Ted Evans
Organization: IQWhois
Address: 340 S Lemon Ave #1362, Walnut, California 91789, United States

For more information, please visit https://iqwhois.com
Source: PressCable
Release ID: 376226